Fauci gives more cautious praise for virus treatment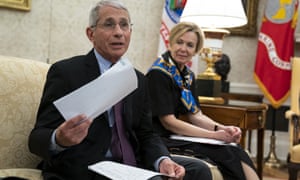 White House coronavirus task force leaders Anthony Fauci (L) and Deborah Birx in the Oval Office yesterday. Photograph: Evan Vucci/AP
Dr Anthony Fauci, the director of the National Institute of Allergy and Infectious Diseases and the top public health official on the White House coronavirus task force, had more to say this morning about the preliminary results of the most promising trial yet of the drug remdesivir to treat Covid-19.
A relatively large study conducted by the US National Institutes of Health (NIH) showed some hopeful results for remdesivir, an experimental antiviral produced by the US pharmaceutical company Gilead, initially as a potential treatment for the Ebola virus.
The main finding is that the drug reduced the amount of time that patients with severe coronavirus had to spend in hospital from 16 days (with a placebo) to 11 days.
The clinical trial has not been peer-reviewed and these are strictly preliminary results. It's early days.
But Fauci told ABC's Good Morning America today that the results were "clearly positive" if "modest".
"It's a first step in what we project will be better and better drugs coming along, alone or in combination. So it's good news but...this is not the total answer."
It is expected to be approved as an emergency treatment by the US regulator the Food and Drug Administration "relatively soon", Fauci said.
Donald Trump is on Twitter this morning once again railing against the conviction of his former national security adviser Michael Flynn.
There has been talk that Flynn could beat the rap as early as this week with a pardon from the president, which Trump has been hinting at/not denying periodically for ages.
Flynn was, very briefly, Trump's first national security adviser but he was fired and pleaded guilty to lying to the FBI about his dealings with the Russian ambassador before Trump took office.
Flynn has been awaiting sentence and in January tried to withdraw his guilty plea.
Donald J. Trump

(@realDonaldTrump)

What happened to General Michael Flynn, a war hero, should never be allowed to happen to a citizen of the United States again! April 30, 2020
Trump also just retweeted his son, Don Jr, who yesterday said:
Donald Trump Jr.

(@DonaldJTrumpJr)

Not only should general Flynn's charges be dropped immediately but the treasonous actors who set him up should be in jail!!! April 29, 2020
Flynn originally cut a deal as part of special counsel Robert Mueller's investigation of Russian election interference and links between Trump and Moscow.
He initially cooperated with the investigation, which concluded last year without establishing criminal conspiracy but did lay out extensive evidence of contact between Trump aides and Russia and possible obstruction of justice by the president himself.
Flynn hired a new lawyer, earlier this year, Fox News pundit Sidney Powell, a longtime critic of the Mueller inquiry who has peddled numerous false conspiracy theories on the investigation and other Trump policies and issues in prime time interviews.
In March Trump tweeted: "So now it is reported that, after destroying his life & the life of his wonderful family (and many others also), the FBI, working in conjunction with the Justice Department, has 'lost' the records of General Michael Flynn. How convenient.
"I am strongly considering a Full Pardon!"
As the president often says, we'll see.
Federal guidelines on social distancing set to expire tonight
Good morning, US blog readers. Your primary blogger Joan Greve will be with you shortly but we'll get the day started with some of the leading news around US politics and the coronavirus.
Federal guidelines on social distancing are set to expire at midnight tonight and at least two dozen states are set to begin reopening with greater social movement and business activity tomorrow or over the weekend.
While Donald Trump is keen for this to happen, his own public health experts are urging extreme caution about states relaxing their own stay-at-home orders (as opposed to mere guidelines). There were more than 2,600 new deaths in the US from coronavirus yesterday.
And last night California announced it was going to close its beaches and state parks just days after allowing them to open, after people crowded there in an unsafe way.
And:
Top public health expert Anthony Fauci this morning said the preliminary results from early trials of the drug remdesivir in treating coronavirus were "clearly positive" though "modest" and were a "first step in what we project will be better and better drugs" to treat Covid-19.
Presumed Democratic presidential nominee Joe Biden has formed his "vetting team" to search for his best vice presidential candidate – while calls for him to address directly a recently elevated accusation of sexual assault in the past are growing.
The latest unemployment figures in the US are due out at 8.30 and our business team will cover that separately. They will not make good reading.